We want everyone out there to help us spread the word about CFUnited 2009! I'm asking all of you to post CFUnited blog bling on all your sites and in return you will be entered into a drawing to win MONEY!
Yup that's right, no prizes.. no discounts.. but cold hard cash.
Just fill out the form, and submit a valid URL. At the end of each month between January - July 2009 we will randomly pick a winner from the submitted URL's with CFUnited Blog Bling and the winner will receive $200!
Winners will be announced on the CFUnited Blog at the end of each month.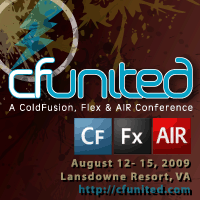 The earlier you post CFUnited blog bling the more chances you have to win. So what are you waiting for go pick out your CFUnited Blog Bling http://cfunited.com/go/spreadtheword
Submit your URL here http://cfunited.com/go/survey/167