You should be receiving your copy of the CFUnited conference pamphlet in the mail this week. It is a great resource to show your manager or boss information about CFUnited and the types of topics being presented this year.
To view a PDF version of this pamphlet, go to http://cfunited.com/images/CFUNITED2007_pamphlet.pdf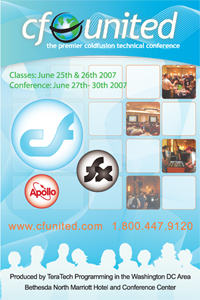 Need a discount or more information? Contact Liz at 301.424.3903 x107
If your manager is interested in attending just the Expo Show Room and Networking events, we have a package for them as well!