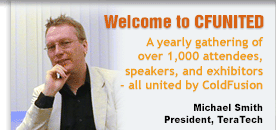 "
If this is your first time, you will be very happy. CFUN is the best CFML conference - period. ... consistently I can say CFUN is the one most worth your money
"
"
... learn tips, tricks, and trends from CFML industry leaders and experts, be inspired, and more productive than ever before!
"
"
...this event really is the best gathering in the world for people developing or managing CF systems. It's here that we can understand what happened, hear what's happening, and learn what's going to happen. You can't beat it.
"
"
Great place to network yourself and pick up new techinques and ideas. Also to meet ones peers, and see what the future holds for all those involved with ColdFusion
"
"
Introductions to the latest developing techniques. Get inspiration in new ways to develop projects. Generally, to "re-kindle" your cf "fire" by being part of a group excited by and interested in cf development.
"

New Technologies
Advanced CFML Topics
Integration Strategics




Industry Experts
Collegues and Peers
Old Friends and New




Industry Experts
Leading Vendors
Birds of a Feather


SCHEDULE

Keynotes

Event Dates

Classes

Networking




TRACKS

Accessibility / usability

Boot Camp

Advanced CF

Deployment/Platform

Manager/Empowered Programming

MX Integration

Life Cycle




TRAVEL

Hotel

Mongomery County Conference Center

Directions

Restaurants

What to do

Airports & Transportation




REGISTRATION

Very Early Bird $ 449 ends 1/31/05

Early Bird $ 549 ends 3/31/05

Regular $ 649 ends 5/31/05

Late $ 749 ends 6/24/05

Group Rates

Press Pass



How has the conference changed from CFUN?
CFUNITED is 75% bigger with more attendees to network with and meet. Also it is 50% longer to bring you more sessions and more time to learn and interact. We even have free lunches and an open bar reception! There will be more free stuff, more prizes, more exhibitors, more tracks, more speakers, and more space! This year's hotel is much
bigger and better
, held at the brand new
Montgomery County Conference Center
. The things you loved about CFUN still exhist but we've 'CF
UNITED
' the ColdFusion community into one very big gathering. This is THE ColdFusion event. You won't want to miss out. Visit back soon for more conference details. See you in June!